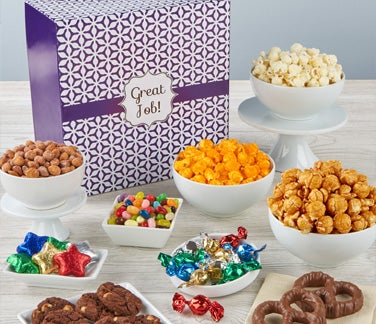 Looking for a fun and easy way to say "thanks" or motivate your team? Reach
out and recognize the people who make your company successful.
The Popcorn Factory's tasty selection of popcorn treats and gourmet snacks
can help you attract and retain top employees, boost job satisfaction and
increase productivity. Motivating employees through recognition is one of the
most effective and cost-efficient means to reinforce an organization's culture.
The result? Motivated, more satisfied employees who align themselves with your
company's goals for success.
Get Inspired!
---
Referrals
Birthdays
Service Anniversaries
Promotions
Top Performers
Peer-to-Peer Acknowledgement
Customer Service Recognition
Recognition and Retention
Safety Awards
To learn more about Volume Discounts and our Corporate Gift Programs


Contact us at: 888-475-2676 or


Email us at: corpservice@thepopcornfactory.com